News
Putin says military action against Ukraine will not stop until Kyiv no longer resists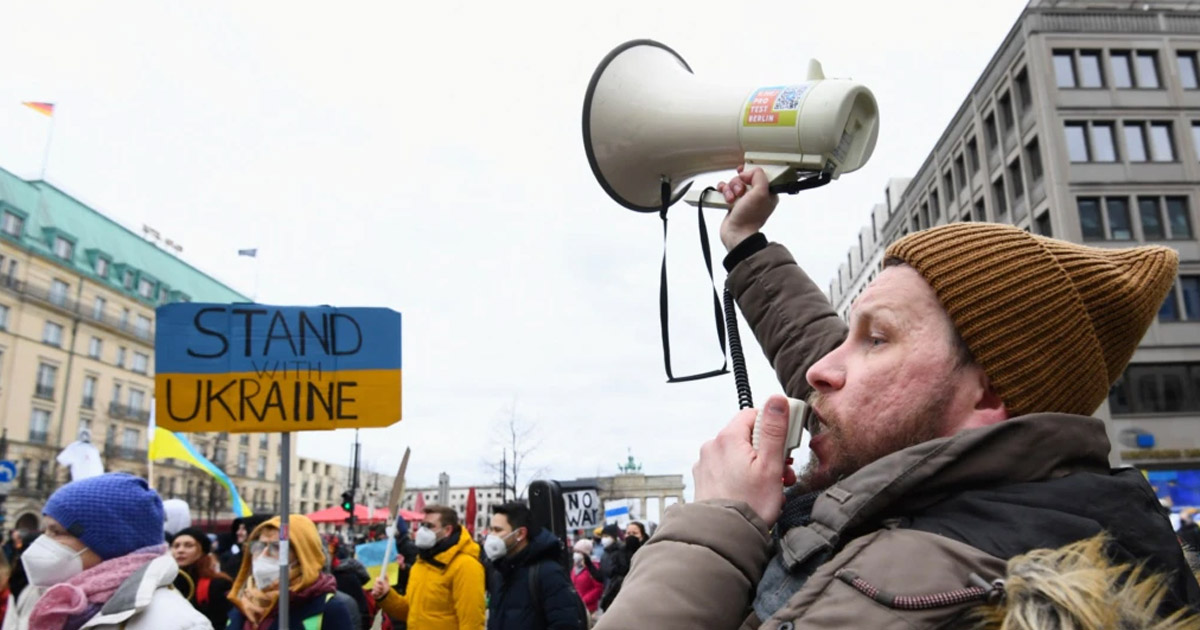 Russia-Ukraine conflict immediate report: Putin says military action against Ukraine will not stop until Kyiv no longer resists. Russia's war against Ukraine enters its 12th day. Russian President Vladimir Putin says he will not stop military operations until Ukrainian troops surrender. China reminded Chinese citizens still in Ukraine to leave the country as soon as possible, citing a sharp rise in tensions in Ukraine.
Putin says military action against Ukraine will not stop until Kyiv no longer resists
Australian Prime Minister Scott Morrison said that at this moment, there is nothing more effective than Beijing to join the international community in condemning Moscow and imposing sanctions on it. support.
Morrison told a discussion hosted by Australia's Lowy Institute on Monday (March 7, 2022) that China has eased imports of Russian barley to provide Russia with a payment system. support, sending an economic lifeline to Moscow, which is under international sanctions.
Ukraine will on Monday (March 7, 2022) ask the United Nations International Court of Justice in The Hague for an emergency ruling to immediately stop Russia's aggression against Ukraine, saying Moscow's aggression was based on a violation of a genocide law. misinterpretation.
Russia's Putin said the special military operation against Ukraine was to protect Russian-speaking people in eastern Ukraine from bullying and the threat of genocide.
The UN International Court of Justice said in a press release that the court will hold two public hearings in the case on March 7 and 8.
The UN International Court of Justice's rulings are legally binding, but the court lacks direct channels for enforcement.
Chinese state media said Monday (March 7, 2022), citing a notice from the Chinese embassy in Ukraine, that Chinese nationals still in the country leave Ukraine as soon as possible.
The notice quoted by the Global Times said, "Most of the Chinese compatriots in Ukraine have already evacuated. At present, the tension in Ukraine is still deteriorating and has a tendency to rise sharply. The Chinese Embassy in Ukraine would like to remind those who are still in Ukraine. Chinese compatriots leave Ukraine as soon as possible."
The United States, Britain and other countries closed their embassies in Ukraine in the middle of last month and urged their citizens to leave Ukraine as soon as possible, but China has not issued relevant reminders to its personnel in Ukraine, and accused the United States and European allies of hyping up the risk of war. Some Chinese who failed to evacuate Ukraine in time told VOA that they were notified by the embassy to evacuate after Russia launched a full-scale war against Ukraine on February 24.
White House officials confirmed to VOA last week a March 2 report in The New York Times that China knew in advance that Russia planned to start a war but asked Moscow not to invade Ukraine before the end of the Beijing Winter Olympics. However, the report was denied by the Chinese Foreign Ministry.
Streaming giant Netflix announced on Sunday (March 6) that it was suspending its service in Russia.
In a statement, the company said the decision to suspend service was motivated by "local conditions." In addition, Netflix did not give further details.
More companies announced they were suspending their activities in Russia.
TikTok, the international version of Douyin, said on Sunday (March 6) that Russian users will not be able to post new video content on TikTok due to Russia's crackdown on social media.
"Faced with Russia's new 'fake news' law, we have no choice but to suspend live streaming and new video content. We are reviewing the security implications of this law," TikTok said in a statement on Twitter wrote in. "Communication services within our software will not be affected."
American Express also announced on Sunday that it was halting all activities within Russia and Belarus.
The statement said American Express credit cards issued outside Russia would not be accepted at merchants or ATMs in Russia. Credit cards issued by banks in Russia will not be able to be used outside Russia.
U.S. Senator Chris Murphy said in an interview with Fox on Sunday (March 6) that Congress will quickly pass $10 billion in emergency funding for Ukrainian defense equipment and humanitarian aid to evacuate civilians.
Just the day before (March 5), Ukrainian President Volodymyr Zelensky held a video conference with more than 300 people including U.S. senators, congressmen and congressional aides.
The Russian military warned on Sunday (March 6) that Ukraine's neighbors must not take in Ukrainian military planes, because if Ukrainian military planes fly from these countries on combat missions, Russia may regard this as part of the conflict.
Russian Defense Ministry spokesman Igor Konashenkov said on Sunday that some Ukrainian warplanes had been flown to Romania and other neighboring countries he did not name for redeployment.
Konashenkov warned that if these fighter jets took off from these countries and carried out the mission to attack the Russian army, this "may be seen as the participation of these countries in a military conflict."
* The International Atomic Energy Agency said Russian troops currently occupying Europe's largest Zaporozhye nuclear power plant in Ukraine are strengthening their control of the plant and disrupting the normal work of nuclear power plant employees.
Rafael Mariano Grossi, director general of the International Atomic Energy Agency, said on Sunday (March 6) that after the Russian military seized the Zaporozhye nuclear power plant last week, all staff were now required to do whatever they needed to do. Everything, including routine equipment maintenance, was approved by the Russians, who also interfered with normal communications by shutting down the plant's wireless network and the Internet. Ukraine's nuclear power plant regulator said phone calls, emails and faxes were now shut down.
Grossi said he was "extremely concerned by these conditions" because if nuclear power plants are to operate safely, "workers must be allowed to perform their vital tasks in a stable state without outside intervention and pressure." .
_____
* 100 Ukrainian Jewish orphans forced to flee by the Russian invasion of Ukraine arrived in Israel by plane on Sunday (March 6). A few hours after the Jewish orphans arrived in Israel, another flight carrying about 300 Ukrainian Jewish immigrants landed in Israel.
The 100 Ukrainian Jewish orphans were evacuated from the central Ukrainian city of Zhytomyr with the assistance of the Jewish State Fund.
Israel's semi-official agency dealing with immigration, the Israel Jewish Agency, said it had received 5,500 urgent requests from Ukrainian Jews to immigrate to Israel since Putin's military invasion of Ukraine.
Israeli Prime Minister Naftali Bennett, who has just returned from a visit to Moscow and Berlin, said at a cabinet meeting on Sunday that Israel is preparing for a wave of Jewish immigrants from Ukraine and that Israel will also accommodate a small number of those fleeing the war. of Ukrainian non-Jewish refugees.
A partial ceasefire in the besieged Ukrainian port city of Mariupol and an agreement to build a humanitarian corridor to evacuate civilians broke again Sunday for the second day in a row after Russian troops continued shelling in violation of the ceasefire. Ukrainian officials also tried to persuade Russia to agree to the safe evacuation of residents from shelled areas around Kyiv.
Russia and Ukraine had agreed to a ceasefire between 10 a.m. and 9 p.m. local time in Mariupol on Sunday, allowing besieged civilians to evacuate safely through humanitarian corridors. But as on Saturday, the Russian military did not abide by the ceasefire agreement, and the continued Russian offensive forced the humanitarian corridor to be useless.
Anton Gerashchenko, an adviser to the Ukrainian Interior Ministry, said that the Russian army's offensive continued, and the planned evacuation of civilians had to be abandoned. "The 'green channel' can't be established at all, because the disgusting heads of the Russians decide when and who to fire," Glashenko said.
In addition, Ukraine's National Security Agency accused the Russian army of launching rockets at a physics school in Kharkiv, which has nuclear materials and a nuclear reactor. The Russian army has previously occupied the largest Zaporozhye nuclear power plant in Europe in Ukraine and Chernobyl, where the nuclear disaster once occurred.
Ukraine's State Security Service said that if a Russian rocket hit the nuclear reactor at the School of Physics, it could lead to "a massive environmental disaster".
Meanwhile, Ukrainian President Volodymyr Zelensky reiterated Sunday's call for foreign supporters to establish a no-fly zone over Ukraine.
"The world is strong enough to close our skies," Zelensky said. But NATO has made it clear that it will not establish a no-fly zone over Ukraine, which could put NATO in direct conflict with Russia.
Putin already threatened Saturday that any third party setting up a no-fly zone in Ukraine would be considered a participant in the conflict.
Catholic Pope Francis said on Sunday (March 6) that he had sent two cardinals to Ukraine and called for an immediate end to the violence.
The Pope said: "The Holy See is ready to do everything it can to serve peace." The two cardinals sent by the Pope to Ukraine are his close assistant Konrad Krajewski and the director of immigration, Michael Czerny of Charity, Justice and Peace.
The Pope did not reveal where the two cardinals traveled to Ukraine, but said their message on behalf of himself and all Catholics was that "war is madness".
The Pope called Ukraine a "suffering country" and called for an end to violence, a humanitarian corridor and a return to the negotiating table.
"In Ukraine, a river of blood and tears is flowing. This is not just a military operation, but a war that sows death, destruction and suffering," the Pope said.
_____
* As of midnight Saturday (March 5), 364 civilians had been confirmed dead and another 759 injured since Russia launched its war against Ukraine on February 24, the UN Human Rights Office said.
The Geneva-based UN Human Rights Office uses its rigorous methodology to count casualties, and only publishes casualties with accuracy after verification and confirmation.
The UN Human Rights Office said the agency believes the actual number of civilian casualties in Ukraine is much higher than it has confirmed, "especially in government-controlled areas and especially in recent days" because of heavy fighting in areas , information transmission will be delayed, and many casualty reports are still being checked and confirmed.
The civilian casualty figures provided by the Ukrainian government are much higher than those confirmed by the UN Human Rights Office.
The Kremlin said on Sunday (March 6) that Russian President Vladimir Putin said in a phone call with Turkish President Recep Tayyip Erdogan that "only when Kyiv ceases its hostility and meets Russia's well-known demands" that Russia will Military operations in Ukraine will cease.
Putin's previous ceasefire conditions included the "demilitarization" and "denazification" of Ukraine, the recognition of Russia's annexed Crimea as Russian territory and the recognition of two pro-Russian breakaway regions in eastern Ukraine as independent states.
"It is hoped that in the proposed next round of negotiations, Ukraine's representatives will show a more constructive attitude and fully recognize the new reality that is emerging," the Kremlin said in a press release on Putin's phone call with Erdogan. "
Russia and Ukraine have held two rounds of talks, and a third round is expected to take place on Monday.
The United Nations refugee agency said on Sunday (March 6) that the International Committee of the Red Cross and the United Nations were in talks to gain access to some of the worst-hit cities in Ukraine since Russia invaded Ukraine.
Filippo Grandi, the United Nations High Commissioner for Refugees, said Sunday during a visit to the Polish-Ukrainian border that "discussions are ongoing" and that there is a good chance of success. But he did not say which Ukrainian cities the International Red Cross and the United Nations wanted to enter.
Grandi believes that the establishment of humanitarian corridors in Ukraine is very necessary.
"These corridors are only used to transport the humanitarian and basic goods that people desperately need, while also rescuing the most vulnerable and vulnerable people," Grandi said.
Grandi also said countries like Poland, which have received large numbers of Ukrainian refugees, are also in dire need of large-scale international aid. He pointed out that although it is difficult to predict, hundreds of thousands of people are still fleeing in Ukraine, and many more will definitely enter neighboring countries in the next few days.
Earlier Sunday, Grandi had pointed out that the number of refugees fleeing Ukraine had exceeded 1.5 million.
"What's really needed right now is a ceasefire, an end to the hostilities, because that's the only way to end the tragedy," Grandi said.
_____
* U.S. Secretary of State Blinken said Sunday (March 6) that the United States and allies are in "very active discussions" about banning Russian oil and gas imports in order to further strengthen sanctions imposed by Moscow over its invasion of Ukraine.
In an interview with CNN on Sunday, Blinken revealed that President Biden had called a National Security Council meeting on the topic the day before. Although the United States and its European allies have imposed the most severe sanctions on Moscow in history, Russia's lucrative energy industry has so far been spared, because the unwillingness of the United States and the West to sanction Russia's energy industry has led to skyrocketing oil and gas prices in the international market. This will impact the economies of the United States and its allies.
"We are now in dialogue with our European partners and allies to seek a coherent and coordinated approach to ban Russian oil imports while ensuring that there is still a proper supply of oil on the international market," Blinken said. "As we speak, very positive discussions continue."