Front door colors for beige house. The front door colours for the beige houses are not easy to match. The appearance, style, and colour of your front door have a significant impact on kerb appeal. Choosing the right front door colour is one of the most important decisions that house owners must make in order to achieve a classic look for their home. However, front door colours should not be chosen on a whim. Some colour combinations work better than others.
Front door colors for beige house
This post will discuss some of the finest front door colours for beige houses. If you're looking for ideas in this colour scheme, keep reading and screening through our list.
With so many neutral, warm, and cool colours selecting the right one for a beige house door is quite difficult. However, popular colours such as blue, grey, black, white, purple, and pink can be used without hesitation.
Red front door
Red is a powerful colour in feng shui that helps transform negativity into strength. It is also associated with fire, which represents warmth, power, excitement, and motivation in our lives.
If you want to add a splash of colour to your beige exterior, go with red. It won't necessarily match any beige shades, but it's a fun way to add some colour.
Grey front door
Grey, like beige, can take on a variety of undertones to change its overall appearance. You can pick a grey that complements your beige home or something that stands out.
Consider using a grey with a green or blue undertone to add some colour to your home.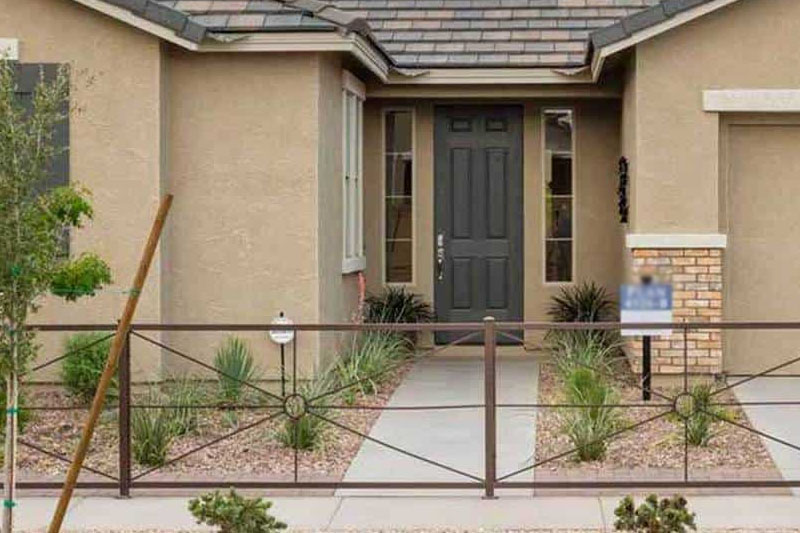 Black front door
Although black does not necessarily collide with anything, it will stand out significantly in a beige home. It will look most pleasant against a pale beige but will stand out against other colours.
White front door
Choose a white door if your beige home is difficult to pair or coordinate with. Just go with a white-based beige, white will never look out of place. It will stand out and add a fresh, clean feel to your home.
Turquoise Front door colors for beige house
This is a lively and exciting colour. It won't go with any colour of beige, so only use this colour if you want something that stands out.
Wooden front door
Natural wooden doors have several brown shades in them, making them ideal for beige homes.
If your home has beige bricks or slabs with varying shades of beige, a beautiful wood door will match all of those colour variations, even if not exactly.
Burgundy front door
If you want to make a statement with your front door in a beige house, go with the warm and bold colour of burgundy. To enhance the appearance of lighter shades of beige, use a dark burgundy. A more subdued burgundy should be used with darker tans.
Blue front door
Muted blues possess the sparkle of other blues and will appear grey or purple. They look great with pale beige and will pop against other colours.
Pink Front door colors for beige house
Pink is a remarkable door colour with different alternatives. You can go bold with fuchsia, as shown in the image, or soft with pastel pink to maintain the ultimate look of your home soft.
Purple Front door colors for beige house
Purple is another unusual colour that can be used in beige homes. Because orange, as well as purple, are contrasting colours, consider combining them to create a colourful exterior. If you want an elegant look, go with deep purples.