Front door colors for a yellow house are used to paint in different colours to create contrast and charm. Yellow is a cheerful, exciting colour that makes people feel good. It gives your house a warm, inviting vibe when used as the paint colour. For instance, there are a variety of choices when deciding what colour front door matches a yellow house, including hues of red, blue, emerald, yellow, and black.
Front Door Colors For A Yellow House
One of the main advantages of colouring your front door a deeper colour is that it blends in with most house styles, from rustic to urban, good idea to start painting with confidence. Your entryway style becomes rather more important in making it appear beautiful and unique.
Before painting your entrance, get some ideas by viewing the variety of possible beautiful front door colors for a yellow home with the images below.
Also know: Top Five Trendy Colour Of The Year 2022
Pristine white front door in yellow house
A white door symbolises integrity, dignity, and freshness, as one might imagine. It's a colour that stands for things that haven't been touched or harmed. Fixing your front white is a great option if you like a traditional look or want to maintain the aesthetic beauty of your home since white goes well with almost any colour and gracefully draws attention to your primary colour.
Additionally, white trimmings could be a flexible substitute for houses with yellow siding. Amongst all the other neutral colours, this calming shade is regarded as timeless but beautiful, and it may make a striking contrast to the warm yellow that sets your building apart from the ones around it.
In order to add white trim to your yellow house to match the colour of the entrance, a white entrance signifies a straightforward yet well-planned interior. If you like things nice, then this theme could be the best way to represent you.
Must see: White Brick Fireplace Best Design Ideas
Blue front door colour in yellow home
One of the most popular front door paint colours is blue. A blue front door may signify richness; the deeper the colour, the more it may convey a sense of serenity and elegance.
While powder blue is amiable and trustworthy, royal blue can suggest that you are prosperous and upbeat. A yellow residence with a blue entrance will nonetheless evoke images of a beach holiday regardless of the hue. This is due to the fact that blue may either be the sky or ocean, while yellow stands for sand.
Also see: Blue Living Room Decorating Ideas
Red front door yellow home
You may have noticed many yellow homes with red doors. These two hues give not only a beautiful aesthetic appeal but also value. In America, homes with painted red doors love to welcome guests. It is seen as a sign of good fortune, health, and well-being in Chinese culture. Since the front entrance is regarded as the mouth of the house, painting it red provides a warm atmosphere.
Your front door's colour will undoubtedly affect the entire appearance because yellow is so prominent. A little greenish-yellow siding and a red door assist produce warm external elements and amazing energy.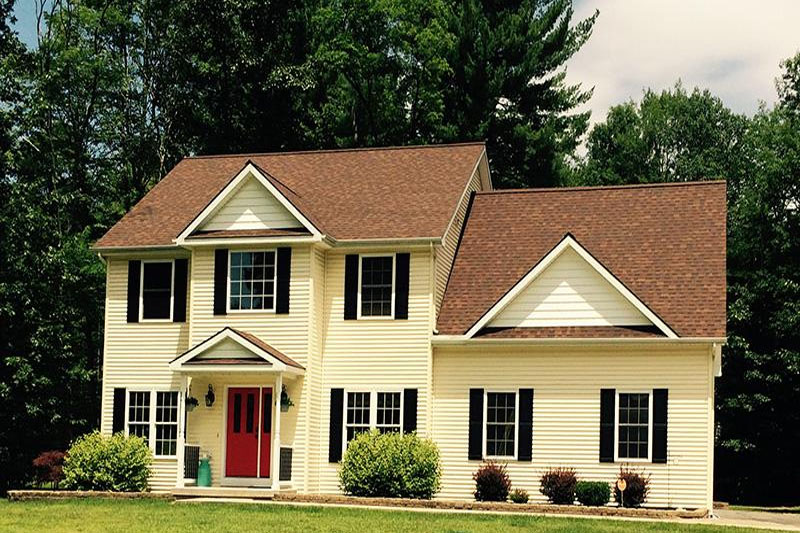 Yellow home with turquoise front door
Turquoise is a luxurious jewel-toned hue of green that shines out while being versatile, which is why so many people adore using it for a front door.
Bohemian black front door in yellow home
Yellow and black are popular colour combos. You may create a sleek, stylish entryway for your home by using the colour scheme of a black door and a lime yellow home.
The use of a delicate yellow for the home and Bohemian black for the entrance fascinates us.
Hunter green door combo with yellow
Similar to the idea of "going green," a cheery green front door sends the impression that your home is a refuge of health, peace, and environmental friendliness. If you select a louder and more vivid shade of green for your door, such as neon green, it will give the idea that you lead an interesting life.
Contrasting well with any shade of yellow, especially vibrant yellow, a deep green, like forest green, sometimes described as hunter green, gives your yellow exterior a natural feel. Yellow and green share a similar colour scheme, hence they are closely related. They work nicely together and highlight how enjoyable the colour yellow is.
Grey front door in yellow home
A grey front door is typically associated with wisdom and respect, the colour you choose might make your home look cold. This hue shows your willingness to make concessions as well as your intelligence, sophistication, and commitment to remaining current with fashion trends.
The yellow siding can be matched with accessories that have greenish-yellow or charcoal overtones. To get the perfect aesthetic, employ grey furnishings like drapes or shutters. Your grey front door will be easily accessible from these.
Sage green door with yellow home
This relaxing green-grey tone is quite near to a neutral colour. The ideal front door colour for a yellow house is this shade, despite the fact that few people are well aware of this. Whether of whether you pick sage green decor or a front door, or particularly if your exterior is painted yellow, its cool and calming tones are wonderful for bringing a fresh light into your home during the winter. This is a fantastic option if you want a shade of green that sits in between pale and vibrant green.
To make their home feel more lively, many people pair sage green with the other equally light spring and summer tones, including yellow. While some like subtle yellow and sage green for their yellow home, they desire tranquil and natural beauty. This is fantastic for homeowners who want to update their decor with modern main door designs.
Brown front door home
To make the yellow exterior shine out, use a tone which is neither too bright nor too dark. Place brown plants and furnishings on each side of your main entryway to further complete the look. Your doorway will feel more traditional as a result.
While complimenting dark exteriors including red brick or brown panelling, a brownish entrance glows against light-coloured facades. Dark brown is a sign of introversion and loneliness, whereas light brown can stand for kindness and dependability. Consequently, regardless of the shade of brown you select, it will result in a lovely, rustic exterior.
Retro mint door for yellow house
Embrace the classic look by pairing a cool, mint green front door with a warm, buttery yellow home. Retro Mint is unique and exceptional in some way.
Rusty front door colors for a yellow house
By painting your buildings yellow with rust-red doors, you may embrace a rustic, earthy appearance. Any red colour would work, of course, but we like burned or rusty hues.
Must read: Guidelines For Choosing Right Colour For Home